Michael Jordan's Notorious Gambling Habits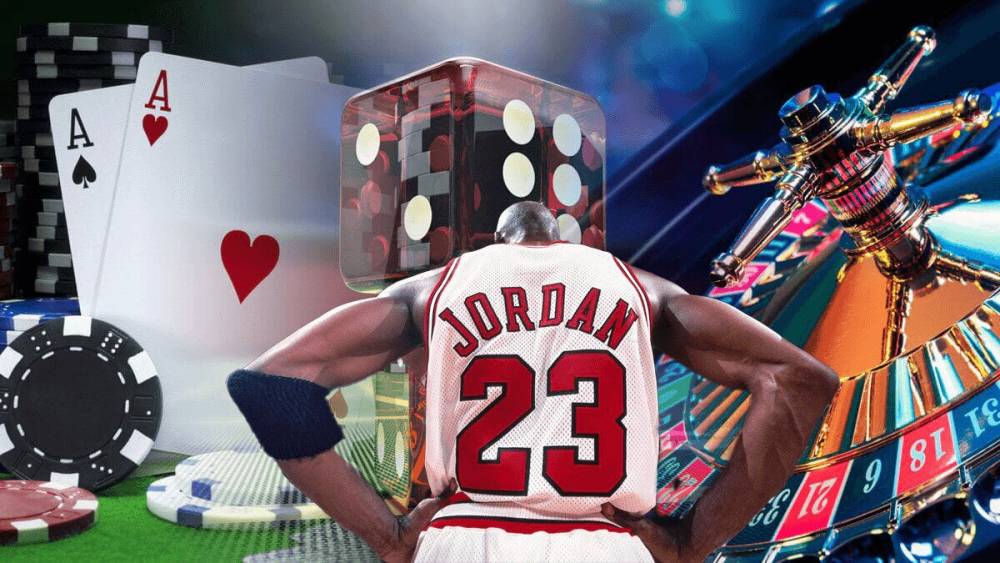 Michael Jordan will always be known as one of the world's greatest athletes. Even on the official National Basketball Association website, it states that "By acclamation, Michael Jordan is the greatest basketball player of all time."
On top of a spot in the Hall of Fame, MJ has 6 NBA championship rings, 6 NBA Finals MVP awards and has made appearances in 14 All-Star games. He also won Rookie of the Year and Defensive Player of the Year in the time he was under the spotlight.
Ultimately, Jordan won so many NBA MVP awards (five in total) that they renamed the MVP award the 'Michael Jordan Trophy' in honor of the eternal Bulls legend. President Obama even awarded Jordan the Presidential Medal of Freedom in 2016.
And in between racking up all these accolades, somehow, he still managed to spare some time to revolutionize the sneaker industry with his illustrious Air Jordan range in collaboration with Nike.
What many people don't know about "His Airness" is that he's also a renowned gambler who has been at the heart of endless controversy over the years. A primary example of this is when he was spotted at the tables in Atlantic City the evening before his big game at the 1992 Eastern Conference Finals.
That same year, Jordan conveniently "retired" from basketball and began his 2-year career in baseball instead. Rumors quickly circulated to say that his sudden career change was actually due to a gambling suspension, with some going as far as to say that the murder of his father was as a result of being unable to pay his gambling debt.
With that in mind, let's take a more detailed look at MJ's gambling history and how this tied into his sports career.
Early Life
According to various biographies, including Roland Lazenby's release of Michael Jordan: The Life, the star has been partial to wagering ever since he was in high school. In his college days, he would regularly lose $5 bets to his fellow students in pool games, and there are even rumors he would place small bets against his teammates during practice—and lose.


Professional Career
Come his NBA days, MJ had become more ambitious with his stakes and was going up against high rollers in card games in both the Bull Camp and throughout his tours on the road.
At one point, he even went as far as wagering a rolling bet against Chicago Stadium staff on the Jumbotron cartoon races, and thanks to his connections and bet-rigging abilities, he'd always get the result of the races before the outcomes were officially announced on gameday.
When the Bulls were on their way to Portland one year, MJ also used his questionable tactics to win a $100 bet against Chicago players on his luggage coming off the conveyor belt first. Close to the whole team was in on the bet, and he allegedly laughed malevolently as his bag rolled out first. What they didn't know was that sneaky old sneaker Jordan had bribed the baggage clerk to guarantee his victory.
MJ's gambling antics were a common occurrence within the Bull's clubhouse, and he would regularly be seen taking a seat at the high-rolling table, wagering against his teammates on everything from golf and American football to games of rock, paper, scissors.
His outlandish betting habits played a huge role in some of his most famous moments, including the time he gave a simple "shrug" after he scored a three-pointer in the first quarter of the NBA Finals Games in 1992, leaving fans bewildered as to whether he possessed super powers or whether it was just a fluke reflex.
It seems he wasn't at all phased by the result, and the notorious shrug was actually him taking a dig at Magic Johnson in the crowd for defeating him at a card game the evening prior.
In preparation for the Summer Olympics the same year, Jordan was brought in to join the "Dream Team" in Monaco, where Monte Carlo also happens to be situated. You can guess what he got up on that trip: he ended up in a high-stakes card game against basketball luminaries Charles Barkley, Patrick Ewing, and Magic Johnson. Later that evening, he punched Steve Kerr in the face.


Gambling Controversies
Soon after returning to the Olympics, things became quite tumultuous for MJ. In February 1993, he was brought to court to testify against a $57,000 check written to avid gambler and alleged drug dealer James Boulder, aka "Slim." Boulder was given nine years jail time for money laundering following the testimony, and despite MJ's efforts to plea that the check was simply a business loan, eventually, he came clean and admitted the check was in fact to clear the outstanding debt he owed from various golf games.
In addition to the above, it was also claimed that Jordan owed $1.3 million in gambling debt to another former golfing partner, but the debt was later settled in court at $300,000.
Father's Murder
A few weeks after these incidences, Michael's beloved father was found dead in his car following a shooting in Robeson County, North Carolina. According to Mark Whicker of the Orange County Register, all they could determine from the event was that "there is evidence of the son's gambling problem, and there is suspicion of a son's paying problem, the father of that son has been murdered. Coincidence, anyone?"
This statement sparked rumors about a connection between James Raymond Jordan, Sr's death, and Michael's gambling addiction, but there is no actual evidence to support these claims. Following the nationwide spectacle, the crime was put down as a random attack and the case was eventually closed.
However, what flared suspicion after his dad's tragic passing was when MJ was asked whether he ever planned to return to MBA after announcing his first retirement. He simply said that he might if the Bulls would allow him to come back and if NBA Commissioner, David Stern, would welcome him back to the league.
This spurred further speculation over whether MJ truly did throw in the towel because he had lost his love for basketball or whether he was forced to retire early because his relentless gambling problem would have led to his suspension anyway.
Whatever the uncovered truths are, many people still believe Michael's statement to be genuine. After all, he was the NBA's most prized player, and he was inconsolably drained after his father's death. On top of the court cases and mountains of debt, one can understand why he was probably unmotivated to continue his career.
Gambling And Professional Sports
To understand how people saw Michael Jordan's gambling back then, it's worth considering the general opinion on gambling during that time.
Most folks viewed gambling as something shady, often associating it with criminal gangs and illegal "backdoor" activities. It didn't help that scandals were rife in the sports world at the time, either.
You only have to think back to the Pete Rose Scandal, to get some context of just how easy it was for gambling sports stars to get a bad rap. He was the manager of the Cincinnati Reds and got caught betting on a ton of MLB games while coaching. That scandal sent shockwaves through Major League Baseball, and as a result, Rose got banned for life in 1989.
Other scandals similar in nature also hit the NFL and College Basketball during the 80s, which only added to the negative perception of gambling in professional sports. In response to all the drama, the major leagues pushed lawmakers to pass the Professional and Amateur Sports Protection Act (PASPA), which made sports betting illegal in 46 states.
Up until May 2018, sports betting remained touch-and-go for everyone involved in the major leagues. Then, when the Supreme Court ruled PASPA unconstitutional and sports betting became legalized throughout the US, public opinion also shifted.
In 2007, which was 14 years after Jordan retired for the first time, the Donaghy scandal made it clear that the NBA had a serious problem with players influencing games for betting purposes. To tackle this issue, the NBA took steps to strengthen its measures against suspicious betting patterns. Interestingly, they also started to embrace sports betting themselves.
During the early 2010s, the NBA got a new Commissioner named Adam Silver. He wrote an article for the New York Times where he argued that the federal ban on sports betting should be lifted as long as certain safeguards were in place for operators. Then, in 2018, the US Supreme Court overturned the sports betting-prohibiting law PASPA, and as a result, sports betting became legalized in 36 states in 2022.
So, if Jordan were pulling off his gambling feats today, not only would it be completely legal, but people wouldn't even bat an eyelid.
Post-Retirement
Michael Jordon may have a long and controversial gambling track record, but it hasn't torn him away from his love of sports and today he's both an NBA owner and chairman of the Charlotte Hornets.
The league has established multi-year partnerships with various sportsbooks, teams have opened retail facilities within arenas, and the negative perception surrounding betting has since diminished. In 2020, Jordan also became an investor in DraftKings, further solidifying his involvement in the world of sports betting.
Conclusion
It's clear that Michael Jordan's gambling habits are less about his addiction to betting and more about his unwavering desire to win. A perfect example of this is his bet with Chris Paul. While visiting one of his kids' summer camps, "CP3" made a wager with Jordan that if he missed three shots, he would have to kit out the entire camp with brand-spanking-new Air Jordans.
As you can probably guess, Jordan didn't miss a single shot, and even though the kids didn't receive their new kicks, they were happy enough to simply be in the presence of one of the world's biggest sports idols.