Gambling in South Africa
South Africa is one of the most liberal countries in the world, and this is owed in part to their human rights bills and their impressive constitution. In the last year, South Africa became one of only a few countries in the world to legalize the use of marijuana. This feat of liberalism applies to their gambling laws and regulations as well. Not only are land-based casinos legal in South Africa, but they are also properly regulated by statutes and acts. There are 40 land-based casinos located throughout the country. Gambling in South Africa is so controlled that there are even taxation procedures outline in acts and statutes.
Online gambling & gambling regulations in South Africa
Although gambling in South Africa is legal in land-based casinos, the same cannot be said for the online universe. Online gambling in South Africa remains illegal, which may come as a shock to some, especially if you have found yourself on an online casino platform that allows South Africans in on the fun. The fact is, online gambling is strictly prohibited in South Africa even though there are a number of foreign providers who allow South Africans on their platforms. The only form of legal online gambling in South Africa is sports betting, and this may only be carried out through the legally licensed South African betting site Betway.co.za. Any other form of online gambling is illegal in South Africa, and those caught indulging may face harsh fines and penalties.
The National Gambling Board (NGB) is the body responsible for regulating all land-based casinos in South Africa, which is great because there are quite a few located throughout the country. In the NGB policies, it stipulates which forms of gambling are permissible and which are not. The National Gambling Act of 2004 is a statute that also governs gambling in the country. In the year 2004, South Africa cracked down on gambling by declaring that all online casinos in South Africa were, in fact, illegal, including those foreign-based casinos that permitted South Africans. As a result of this act, a number of online casinos have ceased offering online gambling services to South Africans. Online casinos found to be offering gambling services in South Africa, as well as banks processing and facilitating payments for such platforms may be subject to hefty fines of more than R10 million. Players found playing illegally on such platforms may get the same fine or imprisonment of up to ten years.
Online Casinos in South Africa
The fact that foreign casinos may allow players from South Africa can be a good thing, especially for those citizens looking to travel abroad. It is only illegal for South African citizens to gamble online inside the Republic; however, if you leave the borders, you are more than welcome to register an account and gamble away.
The one area of online casinos that remains completely legal in South Africa is sports betting. These sites are not only legal, but they are also exceptionally popular in South Africa. The most popular betting site is Betway, as previously mentioned; however, it is not the only one. Multiple bookies offer a variety of betting functions to South Africans. These sites are required to be licensed with one of South Africa's nine provincial gambling and racing boards. To offer South Africans sports betting options, online bookies must ensure they are affiliated with one of these bodies. Other than Betway other popular betting sites includes Sportingbet, Yebo Casino, Sport MantionBet, KTO sports, and Thunderbolt.
Casino Bonuses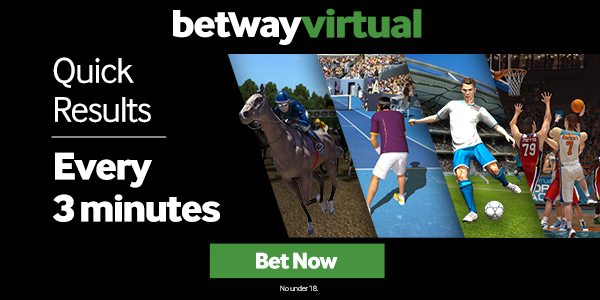 Visit Betway Casino and Betting Popular South Africa Gambling Site
One thing that we all appreciate in the online gambling sphere is casino bonuses, and just because online casinos of the traditional sense are illegal in the Rainbow Nation, it doesn't mean that betting sites still can't offer incredible sign-up bonuses.
At the time of writing these were some of the bonuses available at "online casinos" in South Africa:
Casino: Sporting Bet
Yebo Casino
Sport MansionBet

50% match up bonus up to 500 ZAR

Betway

125% match up to 1,000 ZAR

Thunderbolt
Payment methods
South Africa has some of the best banking methods available to online sport betting enthusiasts. The payment methods available are:
iPay–a quick and free EFT software
1Voucher – free and immediate
EFT bank Wire Transfer – free transfer takes 1-3 business days
ABSA bank transfer – free transfer takes 1-3 business days
Standard Bank EFT bank transfer – free transfer takes 1-3 business days
NedBank EFT bank transfer – free transfer takes 1-3 business days
SD Instant EFT – free and immediate